OMNIE Precision-Flo Manifold
DS UFH 17.1
---
Technical Details
Sizes available 2 to 12 Port
Suitable for: Water, Water/Glycol mixtures
Temperature Range: -10°C to +95°C
Motor design: A-rated circulator
Max system pressure: 6 bar
Electrical supply: 200-240 Volt, 50/60 Hertz
Power consumption: 3-45 Watt
Watt protection: IP 44
Insulation class: F
3 way thermostat & mixing valve: Size 1 – Range of regulation 25-55°C
The OMNIE manifold allows connection of additional high temperature manifolds for supply of towel rails or normal wall hung radiators. The high temperature manifolds distribute the primary water before it reaches the water mixing unit.
Manifold with mixing unit
and circulator:
The manifold is supplied with a mixing unit and circulator to ensure the water temperature entering the floor does not exceed the design temperature. This manifold configuration is essential if the heat source is able to supply high temperature water. The circulator comes pre-set to recommended settings.
Optional 'Branch' manifold:
If the water is supplied at the correct temperature then the mixing valve is unnecessary. Also, if there is a primary circulator installed then this  can be removed from the manifold assembly too.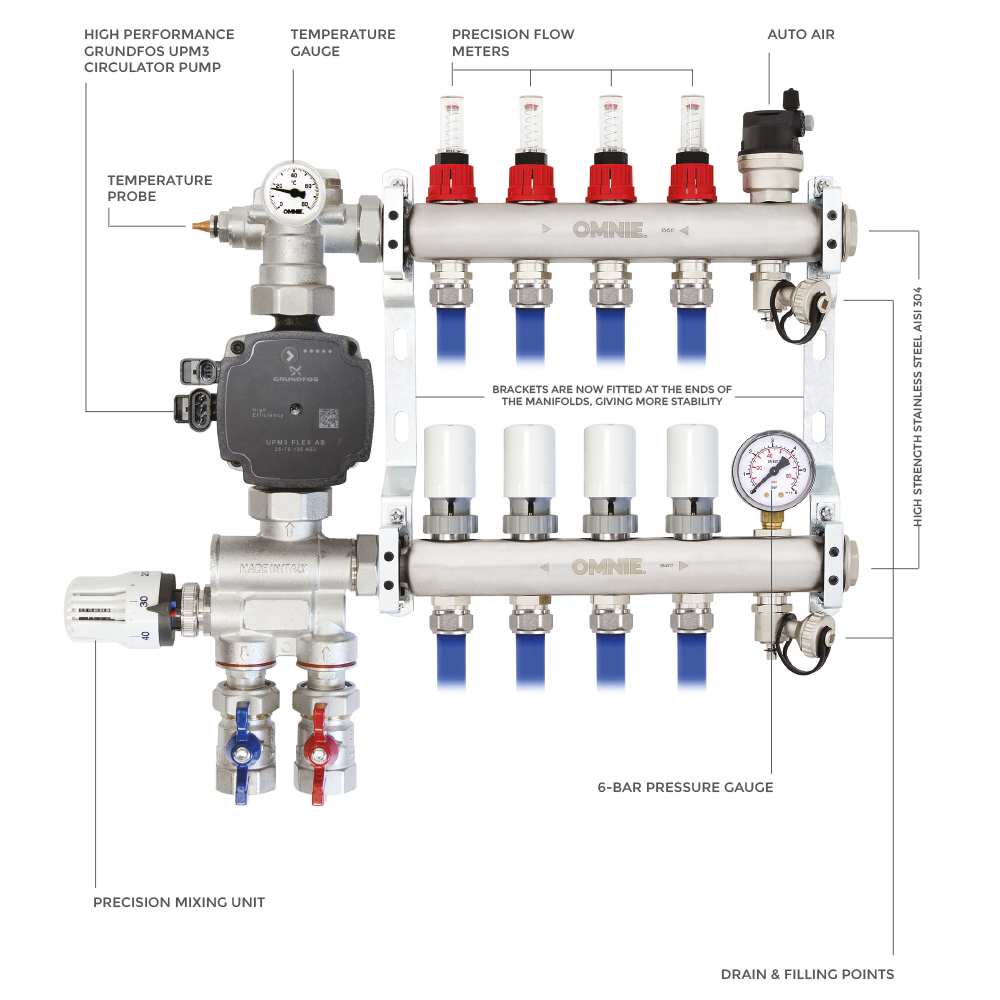 ---
Dimensions
Width = Actual size left to right.
Height = Measured from bottom of isolation valves to top of flow meters. (not from floor)
Depth = Distance from wall.
Note: When installing the manifold, allow an 100mm to each dimension for working space.
| | | 2 | 3 | 4 | 5 | 6 | 7 | 8 | 9 | 10 | 11 | 12 |
| --- | --- | --- | --- | --- | --- | --- | --- | --- | --- | --- | --- | --- |
| Width (mm) | Arms Only Unit | 305 | 355 | 405 | 455 | 505 | 555 | 605 | 655 | 705 | 755 | 805 |
| Width (mm) | Pump & Mixing Unit | 420 | 470 | 520 | 570 | 620 | 670 | 720 | 770 | 820 | 870 | 920 |
| Height (mm) | Arms Only Unit | 365 | 365 | 365 | 365 | 365 | 365 | 365 | 365 | 365 | 365 | 365 |
| Height (mm) | Pump & Mixing Unit | 460 | 460 | 460 | 460 | 460 | 460 | 460 | 460 | 460 | 460 | 460 |
| Depth (mm) | Arms Only Unit | 90 | 90 | 90 | 90 | 90 | 90 | 90 | 90 | 90 | 90 | 90 |
| Depth (mm) | Pump & Mixing Unit | 150 | 150 | 150 | 150 | 150 | 150 | 150 | 150 | 150 | 150 | 150 |