Air quality matters so why compromise? - The ComfoAir-Q from OMNIE pumps clean and fresh air into your building whilst removing stale used air in the process.
The ComfoAir Q from OMNIE is the NEW generation of heat recovery ventilation units, with state of the art design and intelligent technology, regardless of whether you are working on a new build or an old building, with OMNIE comfortable ventilation you have an innovative, tried and tested complete system.
OMNIE ventilation systems innovative technology make for less complexity, increased heat recovery efficiency, lower specific fan power and significant noise reduction.
A perfect combination of outstanding technical performance and excellent features makes ComfoAir Q the best in class achieving top efficiency ratings.
How does it work?
1. Supply of fresh air
Fresh air is fed into the system via an external vent, located in the wall or roof.
2. Ventilation unit
Up to 96% of the heat is recovered from the extract air and transferred to the fresh air. This can be humidified or dehumidified using optional components.
3. Air distribution
The air distribution system channels fresh air at the right temperature to individual rooms as needed and vents the extract air to the outside. The air volume can be individually adjusted for each room.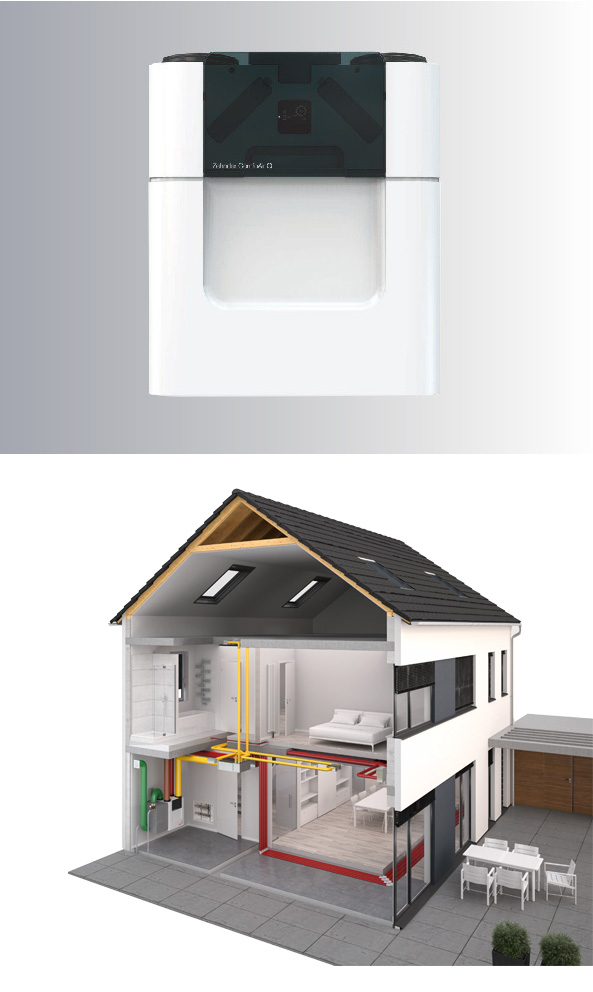 Use Ventilation & Heat Recovery in your next project
Specifications
Last Updated: 22nd August 2019
3 models available – 350m³/hr, 450m³/ hr and 600m³/hr
Suitable for medium and large size properties
All units have been certified as an official Passive House Component by the Passive House Institute
Left or right hand unit configuration combined in one device for installation flexibility
Wall mounted or free standing on mount options
All units – dimensions 850mm (h) x 725mm (w) x 570mm (d)
• Control from your smartphone
• Remote monitoring
• Easy maintenance
• Cooling option available
• Demand-based ventilation sensors
• Step by step start-up wizard
• Simply type in the required airflow rates
• Right and left handing can be modified on-site easily
• Simple installation process
Click here to visit our comprehensive resources section for datasheets and installation guides.