LowBoard RdB System
DS UFH 20.1
---
Introduction
LowBoard RdB is a low build up underfloor heating system with an acoustic separation underlay. It is designed to dampen vibration and attenuate impact and airborne sound passing through floors with minimum loss of floor height. The system can be laid on solid or timber floors and is supplied with edge isolation strip.
The LowBoard RdB System comprises of a 15mm moisture resistant high-density wood board with a separate 8mm acoustic IsoRubber underlay and acoustic edge strip.
The edge strip is fixed around the room perimeter then 8mm acoustic underlay that covers the entire floor area to be heated, this is flowed by standard LowBoard 15 product the wood board layer has grooves routed to accept 12mm pipe and an aluminium layer bonded to the top which acts to spread the heat through the floor. The panels are laid in a brick pattern with the pipe installed by piercing through the soft temper aluminium diffuser into the multi directional channels. A finished floor deck or minimum 6mm ply, MDF or similar is floated or mechanically fixed over the LowBoard RdB System to complete the floor.
NOTE: Finished floor deck must be screws not nails and they must not protrude through the LowBoard layer.
Existing Slab/Floor Deck
Existing slab/floor deck to meet at least SR2 (5mm deviation in 2m) requirements for floor regularity (BS8204) and preferably SR1 (3mm deviation in 2m). The floor finish company may have their own requirements which take precedence.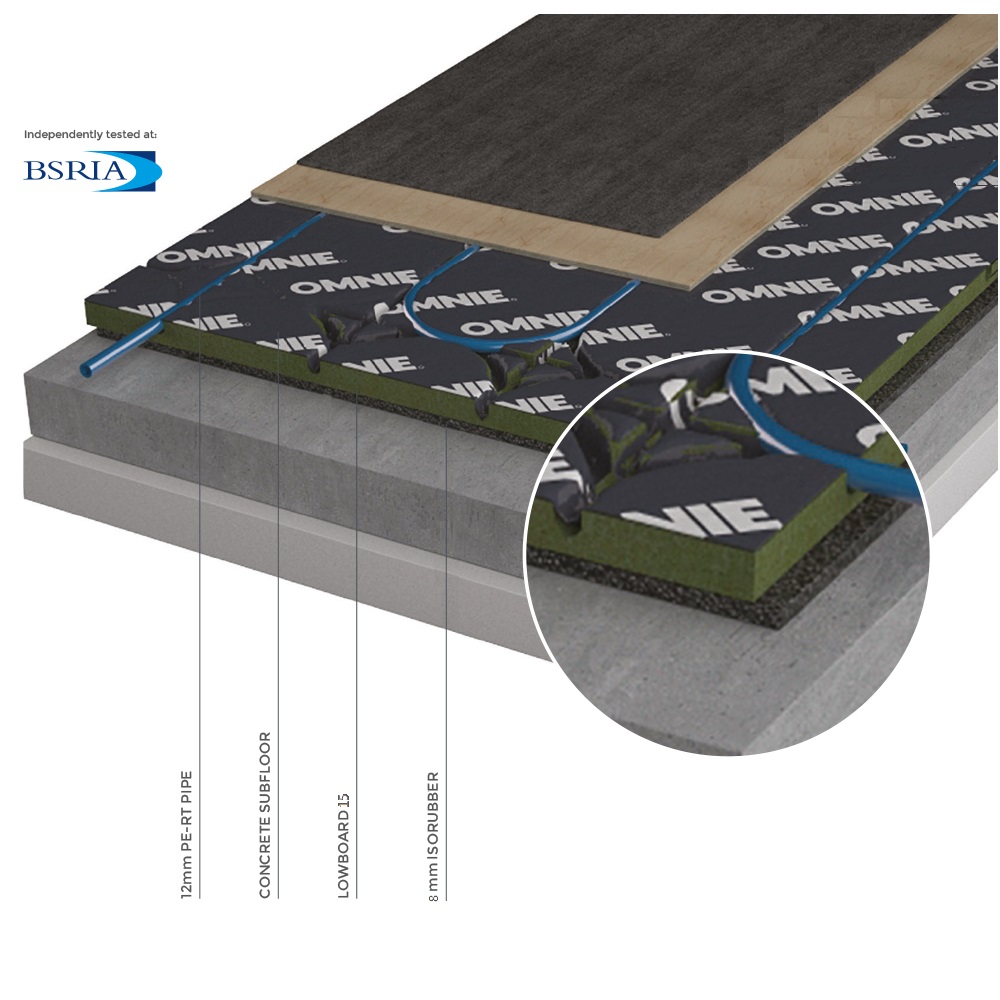 ---
Specification
OMNIE LowBoard RdB system with a total build up of 23mm to the top of heating panel, it consists of an 8mm acoustic Isorubber underlay and 15mm moisture resistant wood board routed to accept 12mm PE-RT pipe to DIN 4726 at 150mm centres and factory fitted with aluminium heat diffuser. LowBoard panels to be floated as a continuous layer over a sub-floor. A minimum 6mm covering layer of ply, MDF or similar is then in turn mechanically fixed over the LowBoard panels to receive a final floor finish. If engineered timber or timber laminate is used there is no need for a covering layer on top of the LowBoard RdB. The system is to be designed, installed and commissioned to BS1264.
NOTE: Finished floor deck must be screws not nails and they must not protrude through the LowBoard layer.
ULTRALOW – LowBoard panel at only 15mm. This product reduces build up to only 22mm combined with a 6mm ply covering layer. For more information on UltraLow Technology see IG DS 24
LAYFAST – Speed up installation time. This product uses our multi-directional pipe channel system.
For more information see IG DS 22
DRYSYSTEM – No wet trades required, designed for dry constructions.
For more information see IG DS 23

---
Technical Information
LowBoard Panel
Dimensions: 608mm x 1218mm x 15mm
Moisture resistant composite wood board panel with integrated diffuser.
Acoustic IsoRubber
Thickness: 8mm
Width: 608mm
Roll Length: 21.2m
Density: Approx. 910kg/m³
Tensile Strength: 1.0N/mm2 (EN ISO 1978)
Elongation at Break: 80% (EN ISO 1978)
Service Temp Range: -30°C to + 80°C
System Thickness
23mm (29mm with 6mm covering layer)
Panel weight with water
14.6kg/m² (based on panel and IsoRubber of equal size)
UFH Pipe
12mm PE-RT to DIN 4726
Centres: 150mm
---
Heat Output
Heat outputs are dependent on the water temperature, floor construction, system dimensions, floor finish & design conditions.
Please call 01392 36 36 05 to discuss your specific requirements.
Heat outputs below are based on 12mm PE-RT pipe at 150mm centres with 6mm ply laid under carpet and 12mm ply under tiles. Air Temperature = 20°C.
(0.15 m²K/W = 1.5 TOG).
| Floor Finish | 55/48 (°C) | 55/43 (°C) | 45/38 (°C) | 40/33 (°C) |
| --- | --- | --- | --- | --- |
| Tile Finish (0.01m²K/W) | 84 W/m² | 70 W/m² | 57 W/m² | 43 W/m² |
| 15mm Wood Finish (0.1m²K/W) | 82 W/m² | 69 W/m² | 56 W/m² | 42 W/m² |
| Carpet & Underlay (0.15 m²K/W) | 70 W/m² | 59 W/m² | 47 W/m² | 36 W/m² |